3 Ways to Survive Distance Learning 2020
If you are like me and had children at home trying to do their school work in Spring 2020 online, then you know how unprepared we were for this scenario. Parents were literally academic teachers.
I work full-time outside of the home for at least 9 months, the perks of working in the K-12 school system. So the paradigm shift was abrupt and real. Come to find out, my child was picking and choosing what she completed because there was no accountability.
Fast forward Fall 2020, again, will begin with online distance learning. Well, this time we hope to be better prepared. This time around, assignments will be collected and counted towards grades.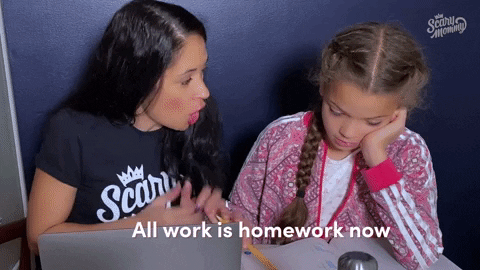 Let's get you these 3 valuable tips for surviving distance learning at home:
1. Set up a designated space/area. My daughter tried to pull the "I'm gonna do my work in my room." card. I immediately redirected that idea. She gets super distracted. If your child is easily distracted or procrastinates, it will be a better idea to clear off an area in the main space such as the dining room table or desk so that the computer and your child is in clear view. Even if your busy doing your own work, at least they are on guard that "My mom can see my computer." For younger children, especially, this is a crucial step. If they are surrounded by toys, tablets, or cartoons blarring, they will be less likely to focus on their school work. Avoid the power struggle by preventing the temptation. Limit as many distractions as possible.
2. Provide routine and structure during the day. Make a clear distinction that it is a school day by getting the children up at the same time during school days. If your child(ren) have a virtual class with their teacher, note the time visually on a calendar or fridge. Set up a visual schedule for each child in your home. You will thank us later. It keeps you on track, and will help your child learn some sense of responsibility. Also, make sure they are getting some movement breaks in-between subjects. Much like school, it is unrealistic to expect them to solidly stay in one spot for 7 hours. Include that 20-30 minutes for lunch. Let that be a time they can do something completely different (after they eat). Set a timer so that it is clear when your child needs to return to the designated area a.k.a. "school".
3.

Make the most of your down time.

Once that school bell, timer, alarm, or whatever goes off for the day. Let the children loose and get in some "me time". Whether it be to listen to a favorite podcast, watch a ratchet video, meditate- anything but academic or work-related tasks. This is a Win-Win for you and the children. If they have more homework to do, don't sweat it right away. You both need a break. Set a clear time each evening of when you will return to the computer together (or if they are older, when the work will be checked by). This way, you can enjoy your break without pressure. "I have 20 minutes to watch the last episode of Real Housewives..." Be kind to yourself and your children with this step and

RELAX

. (Try our 3 minute body scan)
I'm sure there will be more survival tips to add to this list, but with all of the information coming our way, let's start here.